When in communication with Fatshark Support, you may be asked to provide a crash report or a console log. A crash report is always preferred, but a console log is used in the event where no crash report is produced or if the issue experienced was not a crash.
To Provide a Crash Report
After the crash has occurred, a pop-up window prompting you to enter the details of what you were doing prior to the crash will be displayed
Submit the pop-up window
Another pop-up window similar to that pictured below will be displayed
Click the 'Copy to clipboard' button and paste it to us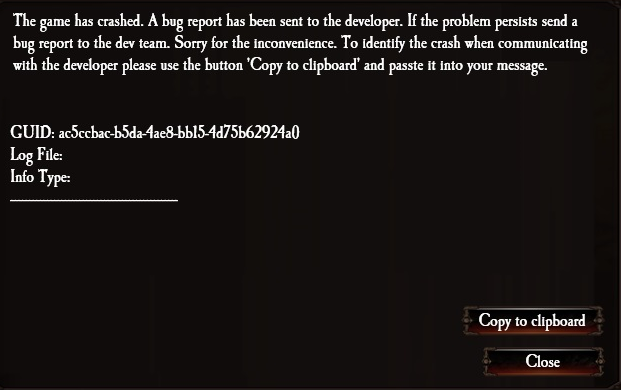 To Provide a Console Log
Press the Windows key + R
Enter %appdata% within the search input and select 'OK'
Navigate to AppData\Roaming\Fatshark\Vermintide 2\console_logs
Locate the console log that corresponds with the session in which the issue occurred, by looking at the timestamps in the log names
Upload* the appropriate console log to us
*If in communication with Fatshark Support via Steam, you will have to upload the console log to a reputable hosting website (e.g. Dropbox, Google Drive) and provide us with a link to it -- make sure the permissions are set appropriately, so we can view it!