.NET Framework
Launcher-related problems can often be resolved by repairing your .NET Framework installation.

Please download the appropriate version of the .NET Framework from the Microsoft website linked below. The installer should then prompt you with an option to repair your installation. Be sure to restart your PC afterwards!

Windows 10 (.NET Framework 4.7): https://www.microsoft.com/net/download/dotnet-framework-runtime/net47
Windows 7 (.NET Framework 4.5.2): https://www.microsoft.com/net/download/dotnet-framework-runtime/net452
If an error is displayed referencing that a later update is already installed, instead download and run the .NET Framework Repair Tool from the Microsoft website: https://www.microsoft.com/en-GB/download/details.aspx?id=30135 
4k Resolution Workaround
Some players with 4k resolutions will be unable to see the launcher after having clicked 'Play' in the Steam library.

The launcher icon will appear within your Taskbar but cannot be interacted with. This is a known issue, but can be mitigated by:
Hover over the launcher icon within the Taskbar
Right-click the mini window
Select 'Maximise'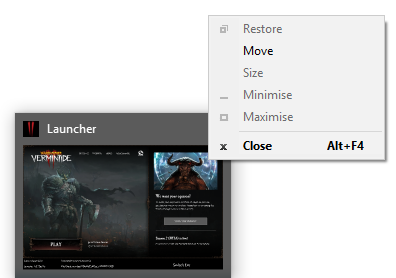 Launcher Workaround
In some situations where all other solutions have proved to be unsuccessful, players with launcher-related issues will need to use our 'Bypass Launcher' option. 
This can be done by:
Right-click Vermintide 2 in your Steam library
Select 'Properties'
Select the 'Betas' tab
In the dropdown, select 'Temporary Launcher Workaround'
Restart Steam
Launch Vermintide 2
Select the 'Bypass Launcher' option
Click 'Play'